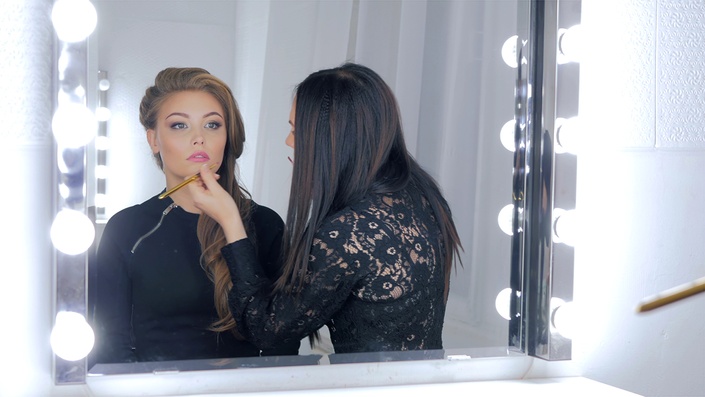 PERFECT MAKEUP LIGHTING ON ANY BUDGET
MAJOR LIGHTING DETAILS - EXPOSED AND SIMPLIFIED
PERFECT MAKEUP LIGHTING ON ANY BUDGET

Deciding what type of makeup light to invest in can feel like an overwhelming task when you're not familiar with all the electrical lighting industry lingo and gimmicks. Such as voltage, kelvin color temperature, wattage, CRI, lumens, tungsten, halogen, etc. And lighting can be a substantial investment but it doesn't have to be. Donna is known for delivering truth with a no B.S. attitude as she simplifies the most confusing topics. She has an ability to break down complex science and theory into simple facts that are easily understood and are memorable, because she delivers information with passion, conviction and humor.
Donna will explain how to troubleshoot and improve the outcome of several current, popular makeup lights that many artists have invested in. Viewers will learn about the best makeup lighting choices available for on-location work or for Youtube type videos that are lightweight and portable. Additionally, Donna will explain the best options of stationary lighting fixtures for makeup studios and photography studios that will create lighting perfection. Discover the newest, most savvy, products on the market as well as several great options for those on an extreme budget. Lighting improvement options will also be shown for home bathrooms. Viewers will learn how to determine factual information verses bogus marketing hype, enabling them to shop with confidence for lighting fixtures and/or light bulbs in the future.
"i loved watching this. i have been a bridal makeup artist for 15 years and am still always looking to learn and donna definitely had what to teach. some was new info and some was correcting what I've learned in the past. thanks for a great lesson!"
— SHOSHANA GLENN
"I loved watching this webinar. Donna goes over so much information and reviews some of the mainstream lighting. I will vouch for the truth of The Makeup Light! Everything Donna says is true. They previously did not post anything in regards to Kelvin and after glancing at their website just now, I don't see anything in regards to the 5 feet lighting. I've used it to practice doing makeup on a friend and it was ridiculously bright. I now use it to light up my backyard in the dark when I'm grilling at night. Back to information regarding the webinar, this is a must for any makeup artist. Valuable, useful, and up-to-date information. Lots of things good to know to be more well-prepared. Thanks again, Donna for the research and hard work you put into this..and also for making all the errors that we hopefully never will have to because of you! Love you!"
— VAN NGUYEN
"Donna is the goddess of makeup knowledge. Always so much info and light bulb moments . She always packs so much info in that your brain is bursting with new tips and tricks. What a joy to watch thanks Donna! X"
— LAURA ZAHRA
"So much great info! Everything that was taught to me in class years ago + updated options. I loved the range of high and low cost options. It really gives you the information on what to invest in for personal and business use now and in the future. Best believe I was running around my house checking bulbs while watching. Lol I knew I had some that needed changing but due to many of the external factors (which you always covered in your lectures) I was surprised which bulbs were actually "brighter" or "warmer" than I even anticipated! Definitely will be updating my lighting soon. And that ring light is life changing! Thanks again Donna!"
— LEAH ASUE
"HI Donna Just watched this webinar that you gifted us. THANK YOU SO MUCH!!! It was one that I really wanted to watch but missed. I was waiting to watch this before I made a purchase and I have just ordered my ring light. So much information and now I feel very confident about asking and talking about light bulbs for my house and bathroom. Thank you for this gift!"
— AMANDA GALLEN
"I didn't realize using a white poster board To reflect light was a thing! Wow! Amazing stuff! Also purchased a Wyze light and so glad I didn't get The Makeup Light (TML) - or 3 (super overpriced!) Thanks Donna!!!n"
— CASSANDRA MCCLURE
"Loved this webinar Donna. Even to this day I walk out of my bathroom thinking I look amazeballs but realising the warm lights have made me apply my makeup ready for an umpa lumpa production show. Ahhh can't wait to make some changes."
— DANIELA CALA
"This webinar is full of great advice, examples and recommendations! I took a heap of notes during the broadcast and it helped me improve a lot."
— MIRA
"There was so much valuable information in this webinar. Whether you are a new artist or a seasoned pro, Donna teaches you how to get optimal lighting for makeup application whether you are on location, in a studio, or in a home environment. She also breaks down in detail why certain lighting is better than others and exactly what to look for. I was surprised to see so many budget friendly options. I now have various options to use while on location and I plan to get new lighting for my bathroom and bedroom. Thank you for another great webinar Donna!"
— MELISSA DILGER
"I have learned so much from Donna's webinars in just 3 weeks than what I've been taught through the industry over the past 8 years! I always knew that lighting was important; however, I didn't quite understand the "why" and "how". This webinar has truly opened my eyes to see what the best lighting for makeup means, why it is important to invest in the best lighting, and how to find it for the best makeup applications and results! She even give tips on how to get the lighting you need- even if you are on a tight budget! Now that I've "seen the light", I encourage anyone looking to get into this industry to invest in this knowledge! Thank you, Donna!"
— KANECIA DAWSON
"Talk about having a "Light Bulb Moment"! I learned so much about lighting. From that amazing Wyze photo light, to lighting on a budget. I learned so much and look forward to future webinars."
— JENNIFER BLACKWELL
"This webinar has made so much difference to when i now shop for lights even just for my home in general. Ive been able to help my mum select the best light for her bathroom,not to mention the guy in the store in the light section. He must have seen me reading the packaging so asked my advice.He went with my suggestion.It made me feel pretty good that i could help someone. Had I of not watched this, I would have been the one searching for someone to help me. Thank you Donna Xx"
— BRODEE
"Great information and insightful for all Makeup Artist & full of visuals. You spoke about lighting that was understandable to me rather than a sales man who just speaks a bout light physics and has no idea what i need as an Artist. Don't hope for the best and just buy what's on trend what is cheap or what is good. I recommend watching this webinar so you are empowered to make the best investment & decision with regards to "Lighting" for your career and clients."
— CRYSTAL FROM PRESENCE MAKEUP ARTISTRY
"Great class - thank you for breaking down the different ways of measuring light intensity and warmth and giving us specific numbers to look for when we purchase lighting. Thanks to this class, I understand I can make my existing lighting setups work even better for me. And thank you for the advice about lighting your personal makeup area with the correct color temperature - never thought of that!"
— KRIS M
This was my first class with Donna and I learned so much. Some things I was doing right but some wrong! I learned some new lighting tips that I really needed to know and will help me with future work."
— DEEDEE JEBRAIL
"Donna Mee is an outstanding mentor, teacher and makeup artist! Perfect Makeup Lighting on a Budget was such a great course. She explains the spectrum that is easy to understand and is practical. What a true experienced professional! I highly recommend her courses if you want to learn from the best in the business!"
— TAMMI KAPITANSKI
"Ive purchased Donna's previous class on lighting and also watched this one live. She breaks lighting down in very simple terms and tells you exactly what you need to know to have the best lighting while doing makeup. It is possible to have great lighting no matter what your budget is! Wish I had had these classes before I spent a couple thousand dollars of dollars on what I thought was professionally the best!"
— HOPE KENNEDY
"I admit I've done makeup applications in poorly lit rooms and now knowing what I know my work could have been so much better!!!! As artists we are only hurting ourselves without this knowledge and could easily improve our application in an instant by changing this one simple thing in our set ups. I love how Donna breaks down lighting and gives an option for EVERY budget. I've invested in a new light based on Donna's recommendations and I see a huge difference in my quality of work. I'm currently remodeling a studio as well and the lightening advice could not have come at a better time. A must watch for all artists from newbie to experienced."
— SUZY DESILVA
"You can tell the experience and research that Donna has in this field. It was great information and i liked the visuals that went with each topic."
— MONIQUE
"You can tell the experience and research that Donna has in this field. It was great information and i liked the visuals that went with each topic."
— MONIQUE
"A great webinar on understanding what the most ideal lighting is for makeup application. Thanks to this webinar I now understand what to look for in a light bulb and it has given me the insight to even pay attention to the colour of the lighting around me. I also have a different view on proper ring lights after watching this."
— EMILY RICHARDSON
"A very enlightening class! Never seen any class like this one before and lighting is sooooo important, not just for makeup artists. Most know the basics but this class is a whole new level of detail!"
— KATHERINE WATTS
"Yet again another in depth teaching from Donna about lighting, one if the not the most important component when doing makeup. Donna gave us some pretty amazing tips that I feel will not only set us apart as professionals but will also make our work better by just adjusting light! She shows detailed picture for those who are a more visual learning (like myself) and it really helped me understand what she was talking about. This is a must see webinar for sure."

"SOOOOOO much information on lighting. This is such an important topic and sadly it's one that I don't ever see taught in much details at all... and the few blogs/classes I've seen on lighting are sharing whatever information creates sales for their lights, wther its accurate and/or relevant or not. Donna, I sincerely appreciate that you only teach the truth, and go into so much detail. You talk about all the technical stuff we need to know, but make it so simplistic to understand, as well as suggestions for lighting at any budget. LOVE LOVE LOVED it!"
— JEN ELLIS
Your Instructor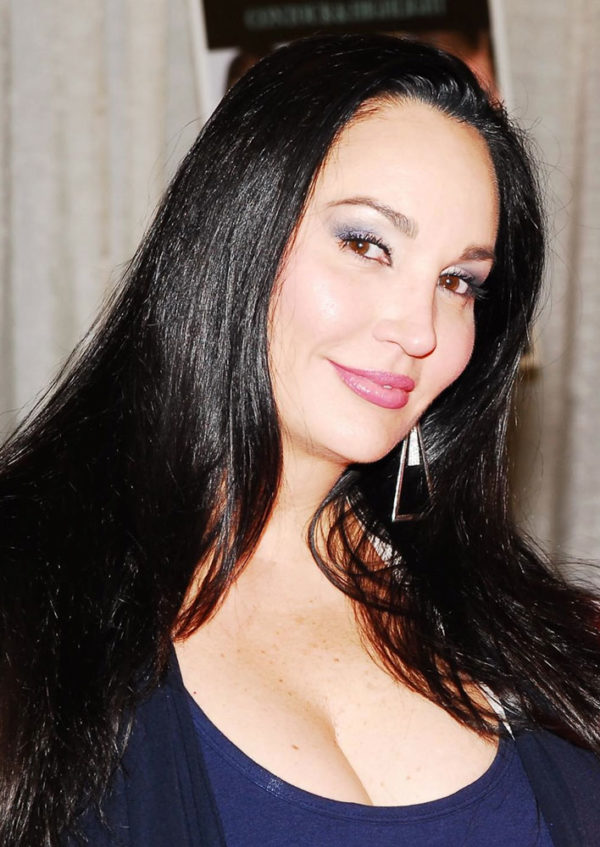 Donna Mee is a 37 year-veteran Makeup Artist, Educator and Beauty Entrepreneur. After honing her skills working in print, runway and television, she now specializes in beauty makeup for print and teaching international educational tours. She is known for developing extremely advanced techniques and application skills known as 'The Donna Mee Makeup Methods.' She is considered one of the top beauty educators in the world. Known for her ability to articulate complex science and theory in a way that is easily understood, Donna has a gift for painting a picture with her words, analogies and stories in which she delivers with conviction and humor. Her passion for beauty is evident and contagious as she passes out major 'light bulb moments' that positively alter the outcome of artists' work and success.
Course Curriculum
Webinar
Available in days
days after you enroll
Frequently Asked Questions
How soon do I have access to the video?
Students get immediate access to the video at time of enrollment and have the ability to access the content at anytime, as often as desired.
How long do I have access to the course?
Students will have lifetime access to the content of course.
Can I get a refund after having access to the training course?
Once students have access to the training course, there are no refunds.